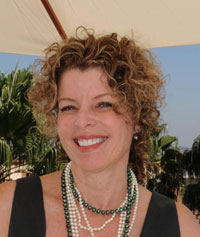 Terri Henry has thoroughly enjoyed 20+ years in the restaurant and food industry marketing arena, most recently as Vice President of Marketing for Grill Concepts, owners and operators of the nationally esteemed fine-dining The Grill on the Alley brand, Daily Grill, one of the leaders in the casual dining segment, and Public School 612, a new gastropub concept opened in 2011. She held this position for 12 years, and is very proud to now call all three brands terri henry marketing clients! She has had vast experience with local restaurant marketing working for Chipotle during their introduction to the California market and the entire Pacific region, and was hired as Director of Marketing for Big City Bagels, a start-up company in the mid-1990s. Terri began her career in the food industry as a general manager and certified facilitator with Starbucks Coffee, so she also understands the operational challenges faced by restaurant owners.
Terri is regularly asked to comment on current trends in restaurant and food trade magazines:                Restaurant Management Magazine       Full Service Restaurant Magazine      Food Fanatics
Terri is the founder of Dine LBC – Long Beach Restaurant Week. The annual event is scheduled for April 23 – May 1, 2016.
Terri has been a member of Les Dames d'Escoffier LA/OC chapter since 2012 and was a member of the annual UCLA Extension California Restaurant Industry Conference advisory board 2008-2012.
An avid cook and baker, Terri is a regular recipe contributor on eHow.com, and is also author of Biscotti, Bars and Brownies! (Crossing Press, 1989 and re-release 1997)
A Southern California native with a bachelor's degree in fine arts (drawing and painting) from California State University Fullerton, she currently uses her creative skills combined with her love of food and cooking to create unique restaurant marketing and publicity initiatives.
photo by Lynn Shreve